Grand Ensemble Koa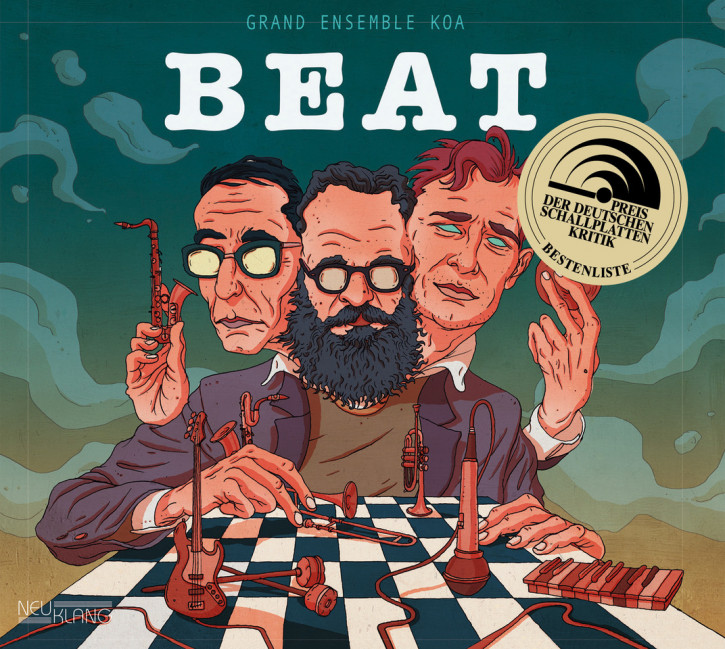 ---
Grand Ensemble Koa: BEAT
EUR
15.95
NewCondition
€ 15,95 inkl. 19 % USt zzgl. Versandkosten
Medium

CD

Artikelnummer

NCD4195

Label

Neuklang

Release

25.01.2019
Tracklist
Alfred Vilayleck - bass, compositions, direction; Matthieu Chédeville - soprano saxophone; Armel Courrée - Alto saxophone; Jérôme Dufour - Tenor saxophone; Pascal Bouvier - trombone; Samuel Mastorakis - vibraphone; Daniel Moreau - keyboards; Julien Grégoire - drums; Caroline Sentis - vocals
Driven by the pulsation of the "
Beat Generation
" intellectual and literary movement, the French jazz ensemble
Grand Ensemble Koa
follows
Jack Kérouac'
s,
Allen Ginsberg
's and
William Burroughs
' steps and set the contrarian poets' texts to music, interpreted in French and English by the luminous voice of Caroline Sentis.
« I saw the best minds of my generation destroyed by madness, starving hysterical naked, dragging themselves through the negro streets at dawn looking for an angry fix... » Allen Ginsberg, Howl, 1956

The "Beat Generation" is a literary and intellectual movement popularized throughout the 1950s, which tried to cast off the "American Way of Life", to get freedom of thought, of dream, of living life to the full.
On the Road by Jack Kerouac, Howl by Allen Ginsberg and Naked Lunch by William Burroughs are ones of the main works describing this way of life, the base of activism which shaped the second part of the 20th century...

Crossing modern jazz and progressive rock, the third album of Grand Ensemble Koa, "BEAT", gets inspiration from important Beat Generation poets' texts and sets them to music, carried of by the voice of Caroline Sentis and compositions of bassist Alfred Vilayleck.

Grand Ensemble Koa is a large ensemble of 9 musicians playing an electric and innovating jazz, mixing improvisations, contemporary composition's techniques, sophisticated grooves and electro-rock sounds. The band was created in 2008 by the bass player and composer Alfred Vilayleck.

In 2010, Grand Ensemble Koa worked on a creation inspired by Alfred Jarry's Ubu-Roi, made of contemporary compositions, satirical theatre and soundpainting. The album "Koa-Roi" was released in 2012, and received the "Jazz album revelation" by the French magazine "Jazzman".
More details at: http://collectifkoa.com